Want to contact the author of these recently released novels? Terry would love to talk about the state of both classic and modern horror with you! Not to worry, he's only slightly deranged.....

Just click this address to send him an e-mail: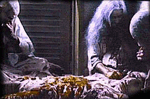 Fellow PUBLISH AMERICA Author's whose work I wholeheatedly recommend and admire:
Doug Boren's 'BEYOND THE HORIZONS', a thrilling action-adventure western on sale at WWW.PUBLISHAMERICA.COM as well as AMAZON.COM!
Preview Doug's breathtakingly realistic work at:
www.authorsden.com/briandboren
I have personally had the honor to preview this novel, and found it impossible NOT to be totally enthralled by both the plotline and characters. You cannot go wrong with this one!
Robert Montesino's 'MIND MONSTERS' is a finely-tuned collection that criss-crosses several realms of the fantastic with equal efffectiveness.
Recently, Robert co-edited the 2005 SPECULATIVE FICTION CENTRE Anthology entitled 'HORIZONS'.
All of Robert's work is available at Amazon.com and Lulu.com.
Collectives in a Forsaken Landscape By N.Pacione
Nickolaus Pacione's 'COLLECTIVES IN A FORSAKEN LANSCAPE' is a dark homage to the legendary works of HP LOVECRAFT; a chilling collection of short tales, poems, and essays by one of today's leading horror mavens.
Pick up this thriller today at AMAZON.COM!
Twisted Oak: Eyes of Discernment
Tim Johnson
Marcy Ashbrook, a teen of Twisted Oak, Florida, is being accused of murdering three high school girls. However, the situation only worsens when the towns sheriff summons the FBI for assistance. What follows is an arduous and unorthodox supernatural psychological mystery that culminates in a place called Dead Oak Forest. It is there that Special Agent John Knight attempts to rescue Marcy Ashbrook from her dark destiny. Will he arrive in time, or will the unthinkable be set in motion?

Purchase this white-knuckle thriller at Publish America.com!